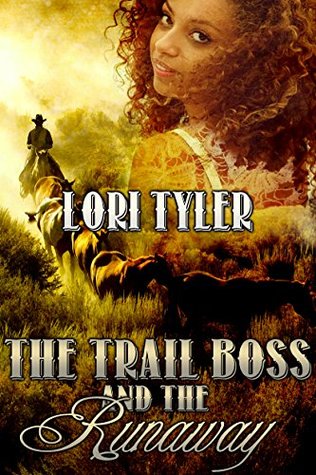 The Trail Boss and The Runaway

by Lori Tyler
on May 29, 2015
Pages: 228
Source: Self
Buy on Amazon
Goodreads

After nineteen-year-old Winnie Freeman is forced to run away from home by the schemes of a murderer, she soon learns that Percival, Texas in 1885 is no easy place for a young woman to make it on her own. So when trail boss Adam Talbert takes an interest in her situation and offers her a job on a cattle drive, she gratefully accepts.

But when Adam questions her about her past and catches her in a lie, Winnie quickly discovers that he is not a man who will tolerate dishonesty. After taking her over his knee for a painful and humiliating bare-bottom spanking, he demands to hear the truth. To her surprise, the handsome cowboy is moved by her tale of woe, and he agrees to bring her on the drive despite the danger that may follow her.

Winnie begins learning the skills involved in cooking on the trail, and as her training under Adam's strict eye progresses she soon finds that she can't imagine a life that isn't by his side. During the long, hard ride to Abilene, Winnie's stubborn, feisty attitude earns her a sore bottom more than once, yet with each passing day Adam's feelings for her grow stronger. But can he protect her from the man that sent her fleeing from her home in the first place?

Publisher's Note: The Trail Boss and the Runaway is an erotic romance novel that contains sexual scenes and spankings, including domestic discipline in a historical setting. If such material offends you, please don't buy this book.
I love the spanking domestic discipline subgenre of romance I think it is just so sweet. You have a little naughty with the spanking and the man in charge (we women still have our ways of getting what we want) with none of the messy bdsm clean up… You know. I have been reading loads of early American romances but one thing seems glaringly missing and that is people of color so when I found this unicorn I was thrilled.
Winnie Freeman the heroine was great, brave and just all around awesome. She put herself in situations that earned her some bare bottom spankings by the handsome strapping legend Adam Talbert. The two characters as individuals were great. But together even though they were a match made in heaven, they really were, I just felt I did not get to see much of the match being made. Yes I read about Winnie's butt being burned but the two kind of talked about each other to other people. I felt like I did not get to see them actually work out their feeling with each other, until they were actually married and that is so not a spoiler. I mean this is a historical spanking romance, once sex has been had there is only once place for the book to go if the heroine is to remain respectable and Miss Winnie is respectable.
Lori Tyler weaved an action filled story and we get to see Adam the hero be the strong strapping man for his heroine. He is a legend being a Black man and a property owner.
I hope more authors join the diverse romance spanking genre, we just do not get many stories like this.
Note: I am not sure why this title has a warning label, not steamy XXX, the tamest. Read this for a story of two people who come together in the west, during a time when it is not easy being black. We see that struggle in Winnie's life.