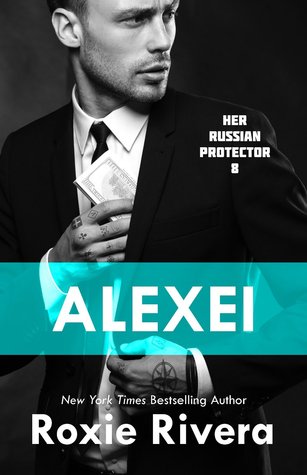 Alexei
by
Roxie Riveria
Series:
Her Russian Protector
on January 29, 2016
Pages:
359
Source:
Self
Buy on Amazon
Goodreads

Shay Sandoval has big dreams and works hard to achieve them. But her older sister likes that fast, easy money and finds herself in a hot mess of trouble when she helps her boyfriend scam Houston's underworld. Terrified for her sister and herself, Shay turns to the only man powerful enough to save them—former prize fighter and Russian mob enforcer Alexei Sarnov.

Just as ruthless in business as he was on the streets, Alexei has built a new life as a respected, wealthy businessman. When he learns Shay's troubled sister has invoked the wrath of Houston's criminal elite, Alexei rushes to intercept Shay before the city's worst men can get their hands on her.

But now that she's under his protection—and under his hands—Alexei realizes that he wants and needs more than he's ever dared to hope for in his harsh life. He wants Shay in his home and in his bed—but not as merely his mistress.

Earning Shay's love and trust just might be the hardest deal he's ever sealed…
It was alright, kind of a where are they now read. If you read Ivan and Erin story you have been down this plot line before only Shay will make you a little crazy with the way she runs to the bad guy over and over, oh yes and over. I mean come on, no back up you staying with the dude who has your back, you cannot let him know nothing, so yes that will get on your nerves.
The saving grace is the supporting characters. We get to meet some newbies, check in on our favs but not Kostya we get told several times bae is on vacation (I say bae because it tripped me out to see that in the book, so not what I expected from the double R, I mean who you been talking to lol.)
If I had went into this series without reading all the good books that came before my expectations would have been lower but after the wait, social media drama and all that and her dropping this like Beyonce I was waiting to be blown away.
If you have read the series this is not the worse title in the line based on my humble opinion. An okay read to tide you over until we can get some Kostya, Ten or Besian. I mean Alexi was not on my list of looking forward to read but hey you take what you can get or just move on to the next.