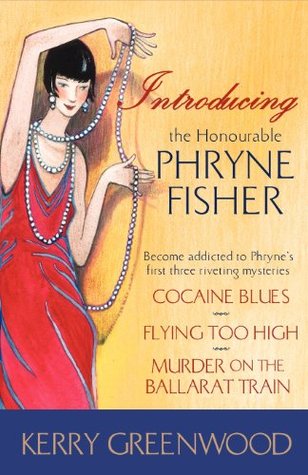 Introducing the Honourable Phryne Fisher

by Kerry Greenwood
Series: Phryne Fisher Mysteries,
on November 1, 2011
Genres: Historical Mystery, Women Private Investigators
Pages: 250
Source: Self
Buy on Amazon
Goodreads

Meet Phryne Fisher, the 1920s' most elegant and irrepressible sleuth, in her first three adventures bound together in one great value volume. This is the perfect way to introduce your friends to your favourite and most stylish sleuth—or to catch up on some of Miss Fisher's earlier career. Our unflappable, unconventional and uninhibited heroine, The Honourable Phryne Fisher, leaves the tedium of English high society for Melbourne, Australia, and never looks back. In her first three adventures, she encounters communism, cocaine, kidnappers, and murderers.

Phryne handles everything—danger, excitement and love—with her inimitable panache and flair, and still finds a little time for discreet dalliances and delicious diversions.

This brilliant omnibus volume presents Cocaine Blues, Flying Too High and Murder on the Ballarat Train.
I am like most people who were introduced to Phryne Fisher through her television series' first. Well there will not be a fourth season, although there are talks of a movie. But the books are always better… Right?
Well, Introducing the Honourable Phryne Fisher includes the first three books in the series, which was too enticing to pass up. I am hooked!
If you love the series, you will love the books even more. Okay, huge big ole' disclaimer the characters we enjoy in the series are in the books, but not in the same order, also they are not as important or at least not yet and I am at book six… That is all I am giving you without being a ruiner of books everywhere.
Why you should read it:
It is so hard to find a good period mystery that provides some humor with a likable woman, who is not a punkaroo.
If you have seen the series you already know Phryne and she is still the same, but now we get to know her better.
You get three stories with this one so it's worth a try.