Genres:
Paranormal Romance and all Fantsay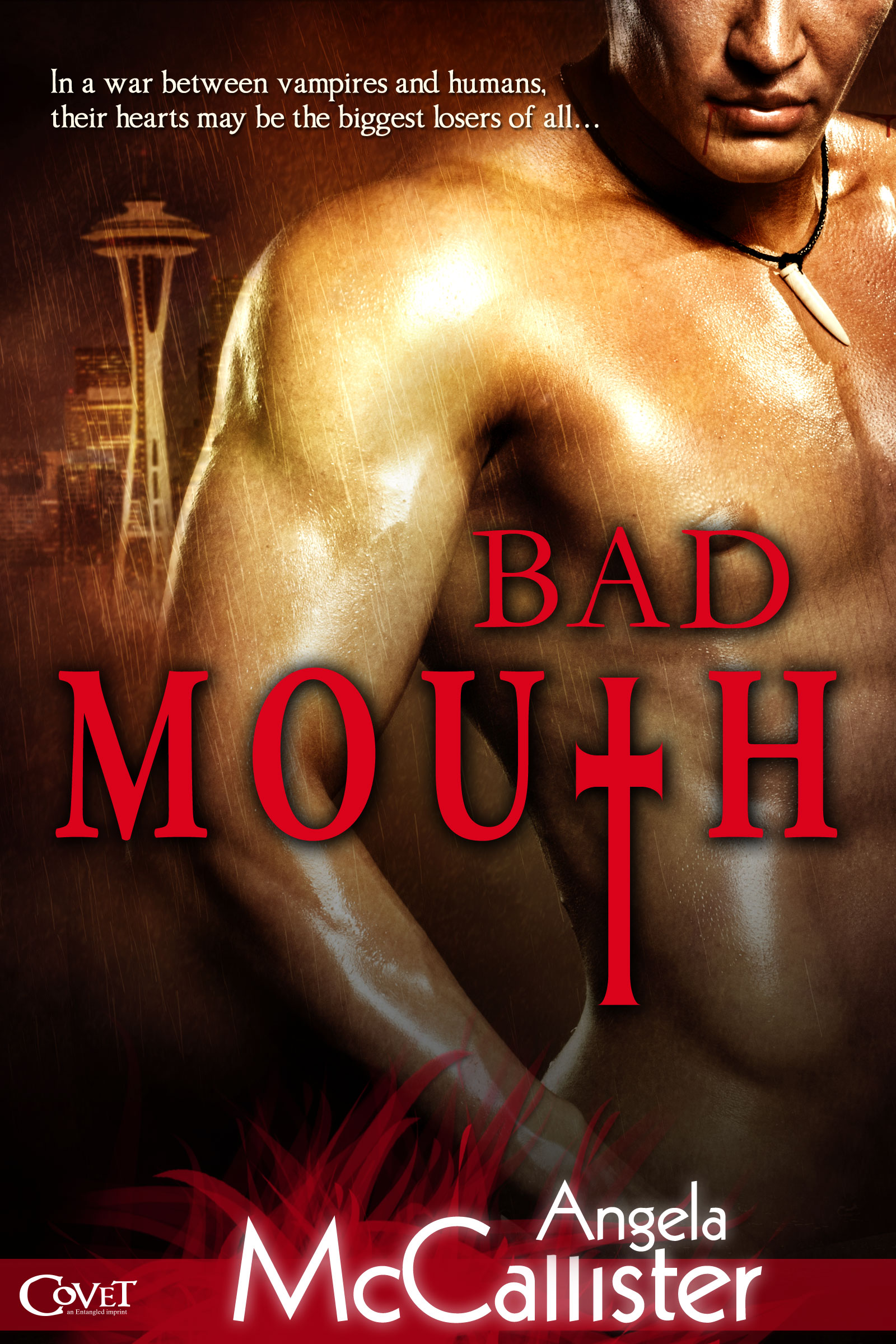 Bad Mouth, Angela McCallister
Book Description (provided): After her ex-husband's obsession with vampires, Valerie Craig is on a mission to stop transformations. Of all vampires, Kade Rollins is the worst of the worst, but when multiple murders plague Seattle, Val is forced to enlist his aid. Kade's crude wit and seductive nature attract her like no other, but she can't ignore his violence toward his human servants, no matter her yearning to forget.

She's torn when she learns Kade may be behind the murders. Val's worked hard to protect humans from vampires, but the truth surrounding the murders could ignite a bloody battle between their races, one humans are sure to lose. Someone is pulling strings to build a vampire army and spark the war—setting Kade up to kick it off. But if she trusts the vampire prince, she risks her job, her integrity, and her heart if he betrays her as all the men in her life have.
Bookswagger Marcia: Four Crowns, good read, on the way to swagger. If you are still loving the fictional Vamp Life I think you will enjoy Angela McCallister Bad Mouth vampire Kade.  He is the heir to the throne unbeknownst to human and human activist Valarie. She does not trust vampires and to have to accept Kades help to save humans has her bull$%it meter running high. Fortunately for her there is more to Kade than his bad mouth, nonchalant human hater persona. Luckily Valarie gets to know Kade on a level no one does and the two fall for each other all while fighting human turned vampire exs, scheming vampire mothers and best friends turned frenemies.
In Bad Mouth we are treated to a world were vampires are the norm and instead of Republicans versus Democrats it is Vampires versus Humans. They have their own unique rules and just because you are a vampire does not mean you are going to be gorgeous, you are as you turn. A lot of the issues Kade and Valarie encounter are due to cultural differences which are what makes this such a realistic read. High on reality, low on fantastical stunts although they are in there (just a little, it is a vampire paranormal romance people, stunts are required).
Giveaway: 1 eBook copy of Bad Mouth just leave email address in comment below.
Tourwide Giveaway: For the BAD MOUTH blog tour, Angela McCallister is giving away an author-signed paranormal book bundle and a $50 Amazon/B&N gift card using a Rafflecopter giveaway
To follow the tour LINK
Extras: Guest Post
Reading saved my sanity! Anglea McCallister
And I might mean this just a bit literally, lol. As a deploying US Navy Sailor, I knew I'd be gone extensively so my husband and five children moved up to Washington while I was stationed on an Aegis Destroyer, the USS Benfold, in San Diego. Before then, my family was the center of my world. All of my decisions were based on what was best for them. My reality became existing in a rather noisy, industrial environment where the bed (or "rack") is smaller than a coffin and the space is shared with seventeen other women—and yes, shut the front door, one shower and two stalls. Needless to say, over time, I was slowly going insane.
I'd been an avid book-a-day reader in my youth, but quit abruptly after some burnout while working in the journalism world as an editor. For thirteen years, I never cracked a book open unless it was to read to my children. But I finally came around on that ship. You see, Naval Media sent us two boxes of books per month, and I began to devour them—the romance ones, of course. I'd read a book every day or two. Books made the rounds of the berthing, and we'd discuss them, and eventually I was challenged to write one. I did it in less than a month, never expecting to write more. The book was extremely well-received, and questions were asked about the secondary characters, so I had to write their stories, too. I was hooked from there! Reading and writing fulfilled me in so many ways, diverting my separation anxiety and giving me something of my own to craft.
I was recently at a convention in Santa Ana where I was lucky enough to meet Barbara Vey for a small group chat. She shared her story of agoraphobia with us and how reading saved her, too. It moved me greatly because I feel the same. I'll be painfully honest here and admit I struggle with a mood disorder and PTSD, and the one thing guaranteed to pull me out of dark places is a good book with a happy ending or a long, uninterrupted writing session where I am in control of the world. All I can say is that reading saved me, and I'm so glad I eventually came back to what I love. I am obsessed, no doubt, but in a great way!
Is reading an obsession for you? How has reading or writing made an impact in your life?