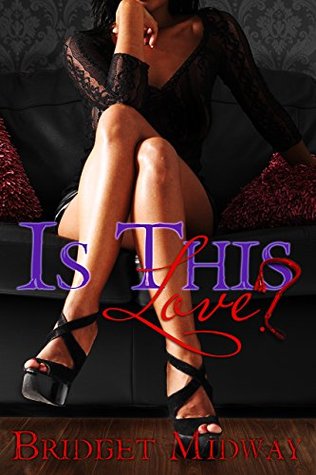 Is This Love ?

by Bridget Midway
on November 10, 2015
Genres: BDSM Romance and Domestic Discipline, Multicultural Romance
Pages: 318
Source: Self
Buy on Amazon
Goodreads


Rocco Silva has zero interest in getting in front of the camera again. After being eliminated, not once, but twice when he competed on "Slave to Love," a reality TV show where a submissive looks for a Dominant, he's become the laughing stock in his BDSM and professional communities. He pours his full concentration on his work as the owner of a garbage company until a sexy woman walks into his life.

Gia Curtiss is tired of her work as a staff photographer in a discount store. After earning her filmmaking degree, she wants to put her education to use by doing a documentary. After a friend tells her of an opportunity to work as a production assistant for Ananda Morton, the producer of "Slave to Love," Gia decides to see the woman about a different proposition. She pitches the idea of doing a documentary on the twice-rejected contestant from her show. Ananda doesn't think the man will do it and challenges Gia to get him to agree. If he does, Ananda will hire her as a director.

Gia thinks she has it made until she runs into opposition with Rocco. He has no interest in making a fool of himself again unless Gia agrees to go on camera with him, allowing him to play with her.

When Gia gets caught up with playing with Rocco, it's hard for her to discern what's real and what's just for show. Can she figure out her feelings before filming ends? Will he allow himself to be vulnerable for this special woman?
I was a little hesitant to read this one, not because I did not think it would be good but the same reason I still have 5 episodes of Leverage sitting in my Netflix queue. When I like something I hate for it to end or disappoint me… I have always been weird like that.
Well, Is This Love was a great read. I thought Rocco got a bad deal in the last book Slave to Love, I was happy he actually ended up with super sane Gia.
The story was great, yes it is a bdsm romance but there was not xxx everywhere, all over the place. It was about the relationship, the connection between Rocco and Gia, which was fantastic. I know I am so sick of wham bam thank you ma'am reads, if that is your thing cool I am all for you doing you but I am over that life. I was happy to see this one not go that route.
The only negative in this read was the makeup was a little rushed, I like to wallow in my conflict resolution but I am noticing in my last few reads the super quick wrap up so maybe I am alone in this or this is a new thing and I am aging out who knows…I mean I do not need an epilogue or anything I am actually not a fan of those but you know I do like my HEA.