When I saw the documentary would be showing at a local library I hit up my romance reading crew and checked it out. Everything I expected to see was in it, even a little more and everything I did not expect to see I was not surprised not to see.
The film delved into the uniqueness of the romance genre and how authors and readers connect. It is unique, not like any industry I have ever seen and something I experienced firsthand when I attended my first con alone. I walked in another reader walked up to me, we started talking books and to this day we are still cool. That is the phenomenon of the romance reading friendship. We bond over books online, at events and it tends to stick and the film covered that so well and not only do fellow readers bond but this includes authors.
The film also delved into the industry come up. Meaning how an author can go from 0 to 100 and the craziness of romance book sales compared to all other book sales period, basically romance smashes it. But they get no love.  Romance readers and people in the industry know that and yes more respect would be appreciated but we are good, we give love, we give respect.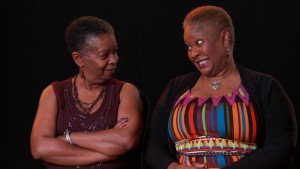 I laughed at Beverly Jenkins and Brenda Jackson, team diversity but I also had the sad thought of who are they (meaning industry folks) going to call when they have questions regarding diversity in romance when they are not available, because they seem to always get the call and no one straight talks like Beverly. She talks $h%t so well.
Anyway if you love romance this documentary is not going to tell you anything you do not already know but it is nice to see the industry get some love.
Watch the Trailer